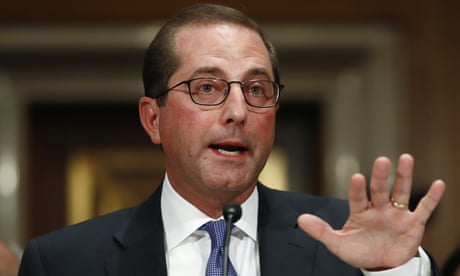 Last month, I published an op-ed in The Guardian in opposition to Alex Azar for Secretary of Health and Human Services. In advance of the Senate Finance Committee Hearing tomorrow over his nomination, I'm publishing my article in its entirety below. 
Recently, the president announced Alex Azar as his nominee to lead the US Department of Health and Human Services, saying: "He will be a star for better healthcare and lower drug prices!" People like me – experts in drug policy and advocates for lowering drug costs for American patients – know that nothing could be farther from the truth.
On average, Americans pay twice as much for life-saving drugs as consumers in other developed countries. It doesn't have to be this way, but unfortunately, Azar might think so.
On Wednesday, Azar appeared before the Senate Health, Education, Labor and Pensions committee. While he stated his commitment to lowering drug prices, he declined to support the two solutions that would have the greatest impact on patients. In fact, he and his company have vigorously opposed policies that would make healthcare more affordable for the rest of us. (more…)

Tagged with: Alex Azar, Eli Lilly, HHS, levitt op-ed, the guardian